This section provides guidance for use in evaluating your shingle roof and it includes suggestions for what you can do based on what you find. As you read through the information on roofs, some of the terms used may not be familiar to you. You can click on Roofing Terms to access a list of definitions that may be helpful.
Information About Shingles
Wind ratings of shingles:
The wind ratings of shingles have increased dramatically over the past 10 years. In the mid to late 1990ís you would have been hard pressed to find shingles rated for more than 65 mph winds. The first ratings in excess of 100 mph were those developed using an American Society of Testing and Materials (ASTM) test standard ASTM D 3161 where 110 mph winds were blown over inclined surfaces of shingles for a one hour period. Shingles that passed this test were designated as F rated shingles per ASTM D 3161 modified to 110 mph. Within the last few years, a new test standard (ASTM D 7158) has been adopted that uses a two step process to develop a wind rating for shingles. The first step involves blowing wind over the surface of the shingles to determine the uplift force on the edge. Then the uplift resistance of adhered or interlocked shingles is measured and that resistance is used to back calculate the wind speed required to create an uplift force large enough to lift up the bottom edge of the shingle, breaking its bond or connection to the shingle below. The following table lists the shingle designations and their corresponding wind ratings.
Asphalt Shingle wind-resistance classifications based on ASTM D 7158
Classification

3-Second Gust Design Wind Speed

A

60 mph

D

90 mph

F

110 mph

G

120 mph

H

150 mph
If you have had your shingles replaced within the past few years, you may be able to determine the wind rating of the shingles from information on the proposal or invoice from your roofer or from the wrapper if the roofer left some spare shingles.
Age:
Sooner or later, all roofing needs to be replaced. If shingles are old and worn, patching or limited repairs won't help when a hurricane strikes. If you know how long it has been since your shingles were replaced, that is a good starting point. While many of the better products come with limited warranties for 25, 30 years or more, the hot sunny Florida climate conspires to shorten that life span. Ultraviolet rays break down the asphalt used to bind the stone granules to the top surface and heat bakes the shingles causing the components to break down and the shingles to become brittle and lose strength. The standard 3-tab shingles used in the past were typically rated for only 15 years. In addition, most if not all of the older warranties were voided for hurricanes.
Failure Rate during 120 MPH Winds by Age of Roof


(click image for larger version)

Studies of hurricane damage have shown that when wind gusts exceed about 120 mph, between 3 and 5 out of 10 shingle roofs suffered enough damage to require re-roofing, regardless of the age of the roof. As shingle roofs get to be more than about 10 years old, the failure rates in areas that likely experienced only 75 to 95 mph gusts ran at a rate of 1 to 2 out of 10, while the failure rates dropped to about 1 in 20 or less for roofs that were less than 5 years old.
Failure Rate during 95 MPH Winds by Age of Roof


(click image for larger version)

Consequently, if your roof is more than 10 years old and particularly if it shows some of the signs of aging outlined below, you are likely to suffer significant shingle damage if a strong hurricane strikes your community.

Hope for the Future?
When it comes to installing a new shingle roof, there are several signs that suggest that future performance can be better than past experience. First, there are new products available on the market with significantly higher wind ratings than in the past. Second, it has been clearly demonstrated that lighter colored shingles do not get as hot as darker shingles so they should hold their strength longer. Unfortunately, the higher rated products are so new that we don't have experience to show how well they will hold up over the long haul and there has not been any systematic study of the influence of shingle color and age on hurricane performance.

Caution About Warranties / Warranty Limitations
Warranties are largely developed for marketing purposes and roof cover warranties are frequently of limited value. Most of the manufacturer's warranties are limited to errors and defects in the product and shift the responsibility for the warranty on the installed product, if there is one, to the installer.
Evaluating Your Shingle
If you want to try to evaluate your shingles, you will need to climb up to the roof. If you are not able to make the inspection yourself, get a reputable roofer or home inspector to evaluate your roof. (Check with neighbors and friends for referrals and check with the Better Business Bureau).
Before you go up on your roof to evaluate your shingles, please read about Ladder Safety Tips. Then read the text below so that you will have a good idea of what to look for when you get on the roof. Print out the Shingle Roof Checklist and Retrofit Suggestions and have that with you on the roof and in the attic. It will help assure that you remember to check everything on the checklist.
Not only should you check shingles while up on the roof, you should also check for other potential weaknesses such as loose roof vents.

If you are not comfortable climbing a ladder to your roof, or your spouse or friends have told you that you have no business on a ladder, you can try binoculars to look over your roof. There are reasons why roofers have extremely high workers compensation rates, so stay off the roof unless you are really comfortable with getting on your roof. If you do climb up read the Ladder Safety Tips. If you are not able to make the inspection yourself, get a reputable roofer or home inspector to evaluate your roof.
From your roof
Look for cracks, broken tabs, buckling curling or blistering of the tabs, and tabs with most of the surface granules worn off. These signs of aging are very strong indicators that you are likely to lose shingles during a hurricane. If your shingles are in good shape, they should lie flat and the lower edges should be well adhered to the top surface of the shingle below. Shingles should be inspected at least yearly for signs of aging and weakness. If your shingles are cracked, have broken tabs, you can see shiny white fiberglass fabric (weave), the tabs are bowed or cupped, or granules are worn off, then your shingles are in need of replacement because they will probably not stay on the roof in high winds.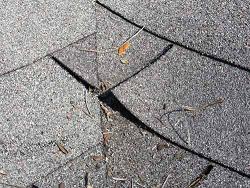 Curled Shingle Tab
(click image for larger version)
Partially Lifted Shingle Tab
(click image for larger version)